It seems there are as many philosophies on tying horses as there are horsemen. Opinions vary from those that think every horse needs to know how to tie to a solid post to those that never tie. I think there is a middle ground.
Safety Concerns When Tying
First off, everyone needs to understand that tying is dangerous. If a horse pulls back he is at minimum going to strain the muscles in his back. Depending on how solid the horse's halter and rope are and what he is tied to the horse could injure his back, break a leg in the panic, or even break his neck.
For this reason I never tie a horse without a breakaway. No matter how well-trained the horse is and how familiar he is in his environment, I want to make sure that something will snap before my horse's neck snaps.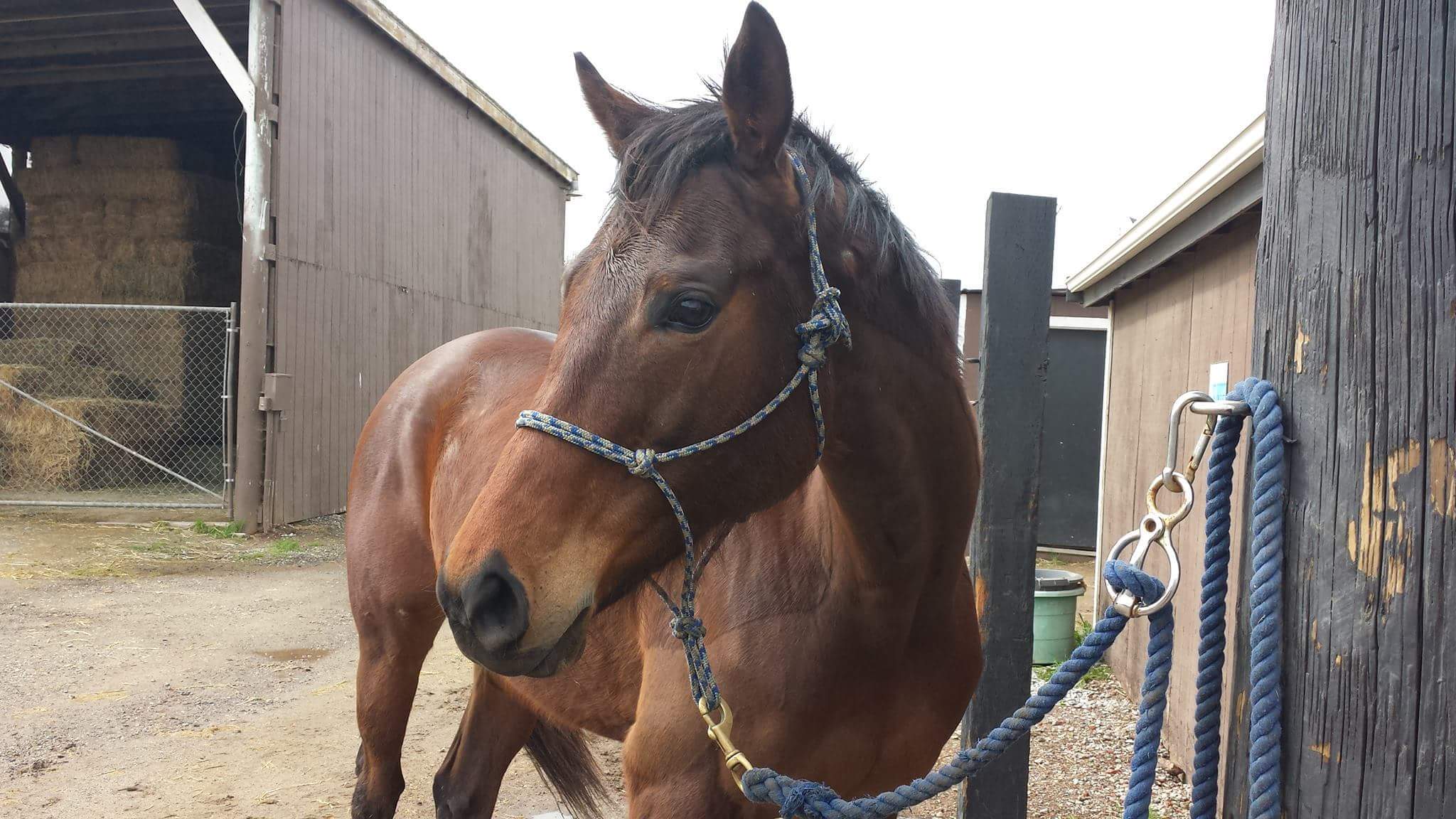 The actual type of breakaway matters less to me. Some people use leather halters or halters with a leather breakaway strap. These are nice because you can then tie your horse anywhere and know he will be relatively safe. I personally prefer to work my horses in rope halters, so I tend to tie to something that breaks away. A piece of baling twine, a blocker tie ring, velcro ties, or a rope that is wrapped around the rail instead of tied all work to keep the horse safe in the event of an accident. The important thing is that there is always something between your horse and the post, rail, or wall you are connecting him to that is more fragile than his neck.
Another important safety note about tying is that you should always be able to untie your horse quickly. Ideally if a horse becomes spooked or starts to pull back you would be able to untie him before he breaks anything and remain in control of the situation. This is why you should always tie with a quick release knot or clip your horse using quick release snaps. No one really wants to deal with their horse running around loose and scared.
You should also put some thought into what you would want attached to your horse's head in the event that he does get loose. A breakaway halter would leave your horse with nothing on, potentially making it harder to catch him. Similarly, having a rope dragging behind your horse may spook him, causing him to run farther and potentially trip himself. Depending on your horse, one of these scenarios may be easier to deal with than the other.
With these safety concerns in mind, let's now consider why you might want to tie your horse or why you may avoid it.
Reasons to Tie
The primary reason people tie horses is for convenience. Tying a horse allows you to leave your horse somewhere without worry of him escaping. However, this is also a lot like horse jail.
If you are only tying for a few minutes the horse is not unduly suffering. We are all required to occasionally wait for things and it serves to grow our patience. The horse may not enjoy this, but he should learn to endure it with minimal complaining.
Tying for hours on end is a completely different story. There may be times where this is required, but often those who tie their horses for long periods of time are doing it as a form of "training" or simple neglect.
I put the word "training" in parenthesis because I think describing this activity as training is questionable at best. I don't believe that tying a horse up for long periods of time teaches the horse anything except learned helplessness. When the horse gets tired of standing he will go through the routine of pulling, dancing around the post, rearing, and kicking. Eventually he learns that there is nothing he can do to get free so he quits trying. Instead of teaching the horse patience with this exercise, you are teaching him to quit trying.
This fundamentally bothers me because I spend so much time teaching horses to try. I don't ever want to discourage a horse from trying, even when he gives the wrong answer. This is why it is generally much easier to train younger horses than older horses; the younger horses have not lost their ability to try new things and think for themselves. The horse's try is his way of communicating with us and therefore something we must preserve throughout our training.
Instead of tying a horse up to teach him patience – because I do agree this is a worthy goal – how about we teach the horse patience in a different way? Instead of setting the horse up for failure by tying him to a post and abandoning him, let's first get him relaxed and in a thinking frame of mind. When he is relaxed, the horse should have a much easier time standing. Since my goal is patience, not tying, I do this exercise in hand. I ask the horse to stand still, and wait for him to move. When he does take a step, I gently ask him to move back to where he was. Eventually, he learns to stand quietly.
Once this skill is mastered I teach my horses to ground tie for ease of tacking up and grooming. This allows me to not have to hold a rope and builds on the principle of standing patiently when asked. Ground tying differs from tying because even though I may walk away, I am not abandoning the horse somewhere. I am always in the vicinity to remind the horse to stand. This means I must stay active in the activity, which builds in a safeguard against leaving the horse for extended periods of time.
I do also teach my horses to tie because sometimes they will need to do it due to barn rules, my busy schedule, or routine appointments. I know that when my horses are tied they are bored and generally miserable, so I try to tie them for the shortest possible time. This is much like waiting in a long line at the grocery store – the horse doesn't want to be there, but he will have to deal with it. Due to the horse's prior training he knows he will have to wait patiently and I can leave him with little worry even if I have never previously tied him for long periods of time.
In the rare circumstances that I do have to leave my horse tied for long periods I will give him hay to keep him occupied. This will at least improve his morale and keep him from resenting being tied.
Even though horses sometimes have to do things they don't want to do I want to keep my relationship with my horse as positive as possible. Unless I am at a show or clinic, I don't have a need to leave my horse tied for more than 10 to 15 minutes, so I don't. When I must leave my horse tied to a trailer I always give him access to food and water to keep him content.
In the rare instance that I do leave a horse tied and he has a hissy fit I will leave him there until he is done with his tantrum. In these instances I know I have failed the horse and I know I must go back to the basics and teach him how to stand patiently in hand. After all, it is about patience, not tying.
Hopefully this information will allow you to think about tying in a different way. Traditional horsemanship treats horses much like cars to be parked at will. Although tying can be useful and even necessary, I hope you will use it with caution in a safe, kind manner.