Stephanie Walker is the head trainer at, and owner of, Free Heart Stables. She began riding at the age of six and developed an insatiable love for horses. She has years of experience working at barns, owning horses, teaching lessons, and training horses, which has given her an excellent work ethic and the ability to both ride and train a large variety of horses. Stephanie has competed in Hunter Jumpers, Dressage, Eventing, and Gymkhana over the years. She educates her students in the importance of good horsemanship and building a partnership between horse and rider. Using classical dressage and natural horsemanship techniques Stephanie can encourage confidence, softness, and the adaptability in both horse and rider. Stephanie also holds a Bachelors of Science in Equestrian Studies from Wilson College, located in Chambersburg, PA and a certificate in equine sports massage therapy from Equissage.
Equine Experience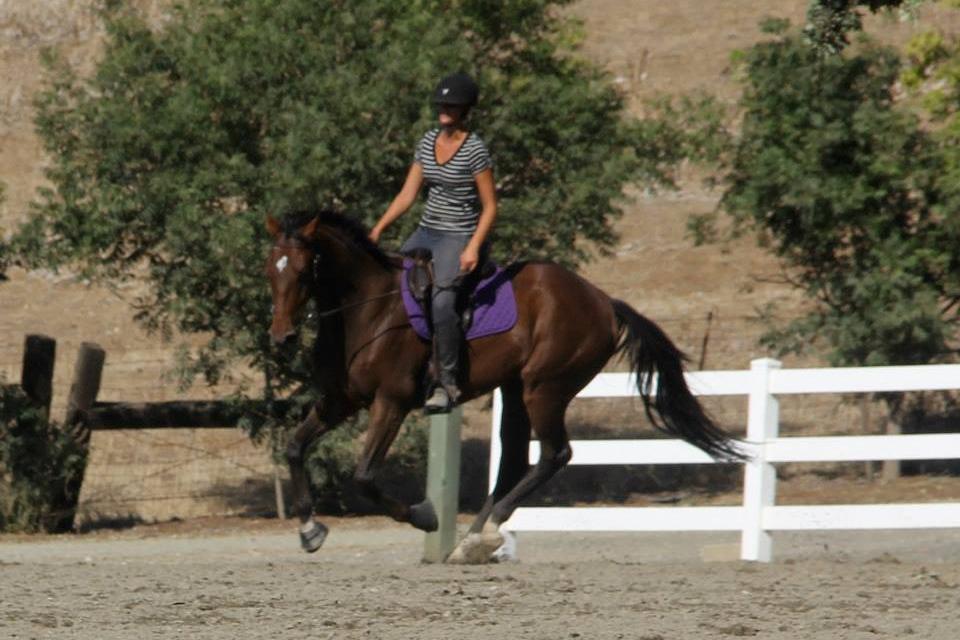 Stephanie first learned to ride Western at six years of age, then entered the Dressage world. Stephanie transitioned to riding Hunter Jumpers in her early teens and began working as a groom for her instructor to pay for lessons.
When Stephanie was 14 she became the proud owner of her first horse, Zephyr. As Stephanie struggled with what quickly became a very shut-down, scared horse she began to explore different training techniques and discovered natural horsemanship. Stephanie studied the philosophies of Tom Dorrance and Ray Hunt through Terry Church and Gail Ivey, although she has also attended numerous clinics on the subject.
Stephanie continued to develop her unique training method in college while studying Equine Science which focused on classical horsemanship techniques, horse management, and biological sciences. Stephanie joined Pony Club and quickly became a C2 / HB pony clubber. She dabbled in Eventing in college and now primarily competes on the Hunter Jumper circuit.
After college Stephanie started Free Heart Stables while furthering her education by working for Amber Lydic and retraining off-the-track Thoroughbreds for resale. Currently Stephanie runs Free Heart Stables full time, taking everything she has learned from her mentors and applying it to the horses she works with in her own unique way.
She regularly attends clinics and is constantly reading books and articles to further her education and understanding of the horse. It is never too late to learn more and develop better ways of doing things.
Teaching Experience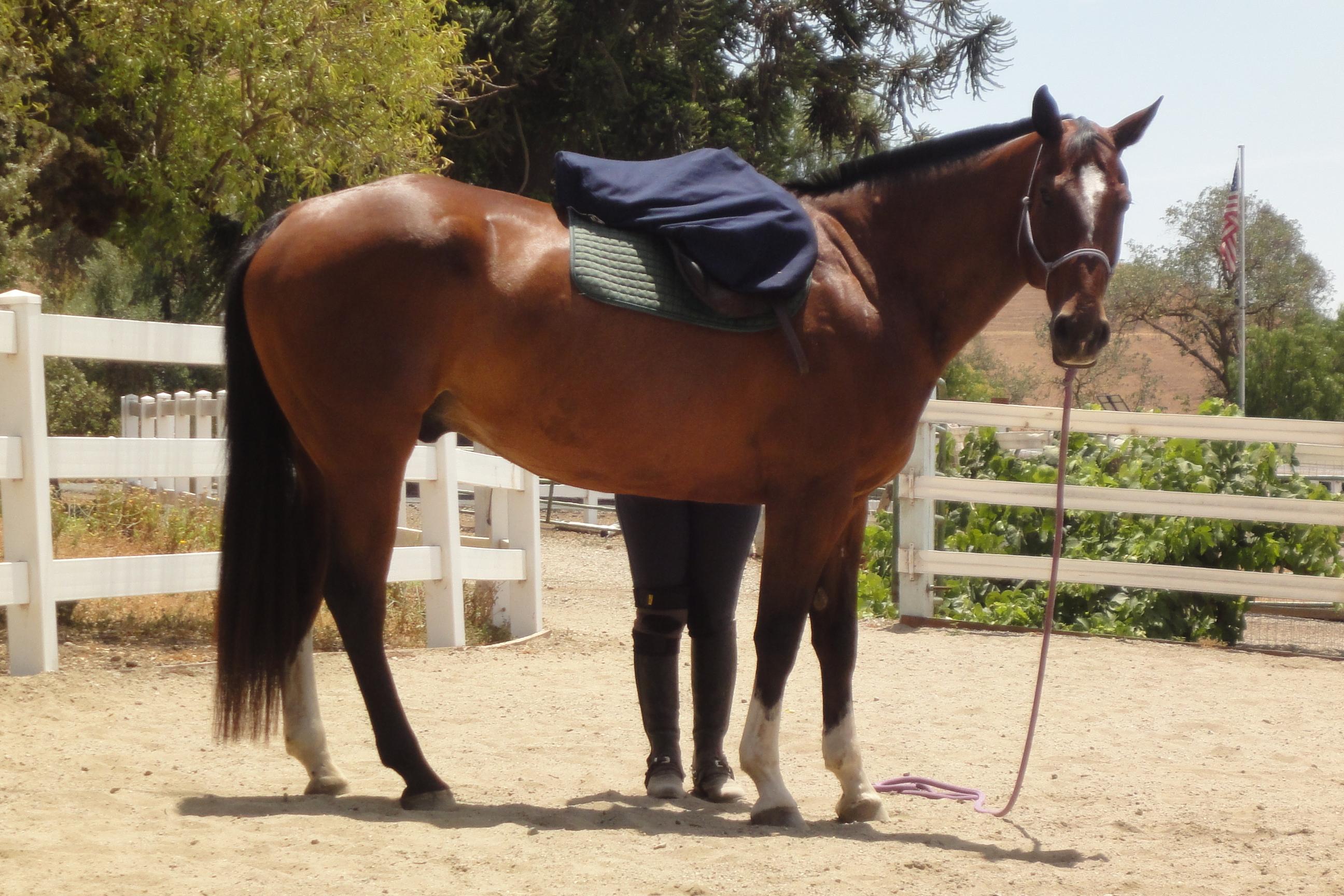 Stephanie gained valuable teaching experience in college through hands-on and theory classes. She also worked summer camps and taught beginner lessons for several years for other programs. Stephanie has since developed her own method of teaching that focuses on feel, timing, relaxation, and correct position. She realized that her students needed the same attention to their physical and emotional well-being as her horses in order to reach their full potential. Stephanie has been running Free Heart Stable's lesson program since 2015.
When teaching Stephanie focuses on maintaining a soft, effective, correct position in order to deliver clear and effective aids. Her keen eye for balance and bracing makes her good at correcting even slight positional issues, which often have a great impact on the horse. Stephanie also easily sees when a rider's feel and timing are off, resulting in the rider being too harsh or not effectively correcting their horse, leading to an upset, scared, or shut down partner. Stephanie's soft approach builds trust with her students and her focus on the basics builds confidence. Her background with difficult horses lends itself to working with riders who are struggling with a horse's behavioral issue. Stephanie has extensive experience teaching first-time riders through advanced riders looking to improve their technique.
Stephanie includes ground work in lessons to help build an effective partnership between horse and rider as well as improve the rider's feel, timing, and general horse handling techniques. Stephanie primarily teaches in the English disciplines, but is happy and able to help any rider looking to establish soft, correct aides and a solid position with a focus on feel and timing. For more information about our instruction and lesson program at Free Heart Stables, please see our Instructional Services page.
Training Experience
Since 2014 Stephanie has been training off-the-track Thoroughbreds for resale as well as taking on client's horses. Stephanie specializes in starting horses, working with "problem" horses, and continuing horses' jumper and dressage educations due to her calm, unflappable nature and her ability to combine classical techniques with a thoughtful, natural horsemanship approach. She has experience working with nervous, aggressive, explosive, or shut down horses and can help you with any problems you might be having with your equine partner. Stephanie can also start your horse from the very basic ground work all the way through working under saddle on a loose rein to gathering the body and collecting softly into the bridle, giving your horse a correct, patient, and thoughtful start in his career.
When working with a horse, Stephanie pays special attention to movement and works with each horse to improve their stride by increasing balance, releasing braces, and encouraging engagement of the hind end. She uses ground work and body work to improve relaxation and target specific braces. Stephanie's background in natural horsemanship reminds her to be patient, keep things simple, and listen to the horse. As Tom Dorrance says, "Make the wrong things difficult and the right things easy. Let your idea become the horse's idea." With these techniques, Stephanie is very successful at transforming difficult, shut down, or arena sour horses into reliable, willing mounts that look forward to being worked.
Stephanie also has experience starting young horses and uses her techniques to ensure the horse has a solid foundation from the start. She starts her horses slowly, making sure that they are relaxed and comfortable with each step before moving on. Once under saddle Stephanie leaves the reins long to encourage the horse to move forward and find his own balance. Horses are introduced to trails once they have the basic skills under saddle in order to encourage them to move forward and increase their exposure to new situations. By the time Stephanie asks for work on a short rein her horses are working through the body correctly and stretching into the bridle. For more information on our training services at Free Heart Stables, please see our Training Services page.
Check Us Out Today!
We would love if you would come check us out and see what Free Heart Stables is all about. If you have any questions or would like to schedule a visit, please get in touch with us! If you are ready to book a service, please use our online scheduler below. We look forward to answering all of your questions and being a part of your equine journey!