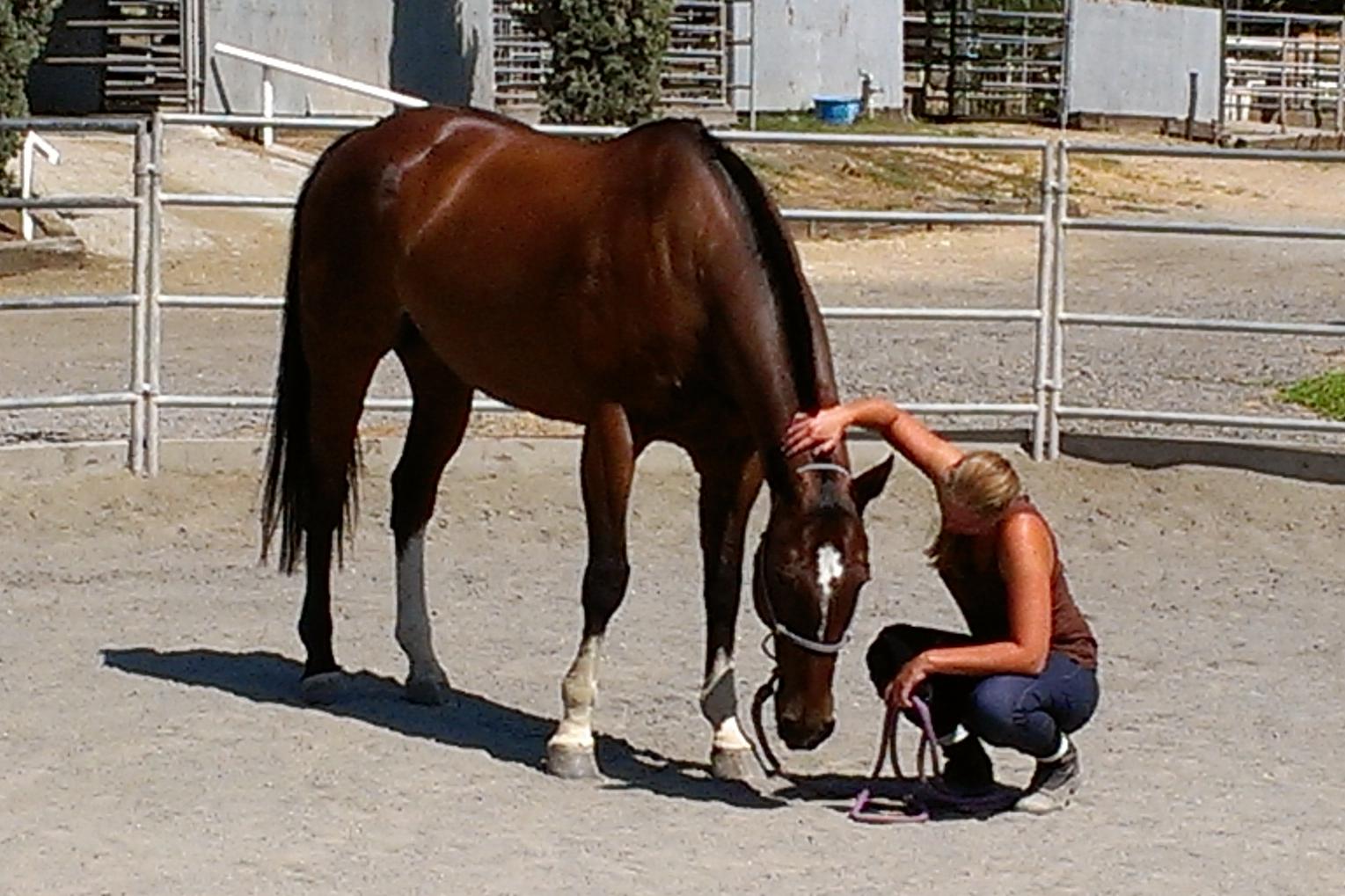 Free Heart Stables' trainer Stephanie Walker offers comprehensive training programs for a wide variety of horses and riders. Our relationship based training program will enhance your partnership with your horse by improving communication, ensuring correct biomechanics, and helping you reach your goals.
We attend several A-Rated Hunter Jumper shows each year and can help you up your game in the show ring, conquer your first bareback canter, or be able to breathe while sitting on your horse taking in the surroundings. No matter how big or small your goals are we will be there with individualized attention each step of the way.
Stephanie has a background in natural horsemanship and classical dressage and has competed in Hunters, Equitation, Jumpers, Dressage, and Eventing. She also has extensive experience rehabilitating horses exhibiting behavioral issues such as aggression, fear, ring sourness, explosiveness, nervousness, bucking, rearing, biting, kicking, not standing or tying, not trailering, and being shut down. Stephanie also works with young horses and is available to start your horse in a slow, correct way. With every horse that comes into our program we strive to first achieve relaxation and trust. From there we can build a partnership and educate the horse so that he understands our cues and requests.
If you are looking to bring you or your horse to the next level you have come to the right place. The combination of our wonderful facilities and unparalleled care combined with our unique approach to training create a winning combo you can't beat. Learn more about boarding your horse with us here.
Training Philosophy
"A relaxed, biomechanically correct, willing horse should always be the end goal of any training program. My foundation in natural horsemanship has taught me the importance of feel, timing and returning to basic elements in order for a horse to have the trust and respect that invite relaxation. I put an emphasis on allowing my horses to problem solve their own way out of situations, which helps them become willing partners. This focus on relaxation, feel, and basic skills encourages confidence, softness, and adaptability in the horse. My dressage background and anatomy lessons have shown me the importance of correct movement for longevity and soundness. All of my horses learn basic dressage as part of their foundation." ~ Stephanie
Training Packages
We offer several different training packages to meet the needs of our clients. Options range from full training with lessons designed to provide the quickest progression to partial training with lessons for the more hands-on equestrian. Single training rides are also available to those in our program needing a few extra rides on their horse.
Free Heart Stables strongly believes that the owner should be an integral part of a horse's training so lessons are included in all of our training packages. During these lessons owners are encouraged to ask questions, watch Stephanie work their horse, work the horse themselves, or do a combination of both depending on the horse's and rider's needs.
Please use the Online Scheduler below to learn more about each training package and book your training package today. When you book a training package you will be given the chance to schedule your lesson times for the month. If you have any questions or would like to come tour our facility please don't hesitate to contact us.